Crestliner's Commander 2050 is a fisherman's fish boat.
By: Captain Christopher Kourtakis
This big water bad boy is built for the rough waters of Lake Ontario and the Georgian Bay. Built with Crestliner's patented variable-degree deadrise, this hull design allows for immediate planing and supreme stability. The reverse chime design with integrated spray rail design forces water down and away from the boat for a dryer ride.  Every joint on the transom is double welded inside and out to ensure long lasting durability.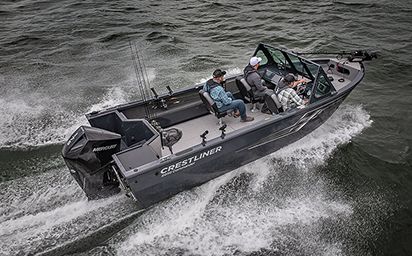 The transom is uniquely designed to incorporate the main larger Mercury motor and the kicker motor to the port side. There are two jump seats on either side of the motor in the cockpit that provide additional seating for your guests.  There are five optional additional rod holders mounted vertically between the seats and in front of the motors.  
The cockpit is open, spacious and has high gunnels to provide security and safety when in the open water.  Open rod lockers on either side of the cockpit provide easy access to four rods and reels on either side of the boat. There is additional storage in the floor for safety equipment or six additional rods.  The helm and copilot jump seats are mounted on top of additional storage boxes that are perfect for tackle box storage and more.  
The bow of the 2050 has an 18-gallon aerated live well built into the floor. Additional lockable in floor storage is just forward of the casting pedestal insert and is ideal for anchor storage.  The ultra tough all welded windshield with optional windshield wiper separated the bow from the cockpit.  This tall design protects the passengers from the elements and waves that may come over the boat when in tough water.  The full enclosure option is a must have if you fish later in the seasons.  The optional wash-down and side bench seating are must haves on this boat so when placing your order, don't forget to include them.
Built to take on the elements so that you can fish for the big fish, the 2050 commander is a true fishing machine that is designed and built for tour guides and the die-hard fisherman.  

Specifications

LOA: 20'8"
Beam: 94"
Fuel Capacity: 40 gal
Weight: 1,715 lbs
Seating: 5-7
Max Horsepower: 200 HP
MSRP: $49,924 USD base

For more information:  www.crestliner.com

boat review, boat test, Crestliner, Crestliner Commander 2050, Fishing Boat boat review, boat test, Crestliner, Crestliner Commander 2050, Fishing Boat