A spacious and elegant pontoon perfect for an entire family.
By Nicole Kolodziej
Over the past two years we've never seen such an overabundance of pontoon boats on the water as today. New buyers went to the most affordable buy while others didn't even care about the price, they just needed to get out of the house. Especially with the shortage of engines to finish the purchase as well as the steel crisis we are going through. As we talk affordable not every day comes quality and workmanship, especially pricing wrapped around in one neat bundle. 
Today we are at looking the SunChaser Geneva Cruise 24 LR PSB, which is definitely in the category of affordable quality. SunChaser is based out of New Paris, Indiana, the hub of pontoon boat manufacturing. The SunChaser is known for its high expectations and craftmanship with high standards that goes with it all. They're also known for their traditional hat-channel construction, with more frame cross channels which is what holds it together over other builders, providing strength to withhold the bigger power of today and the larger waves we encounter during rough seas. The Geneva 24 comes in around $28,000 MRSP.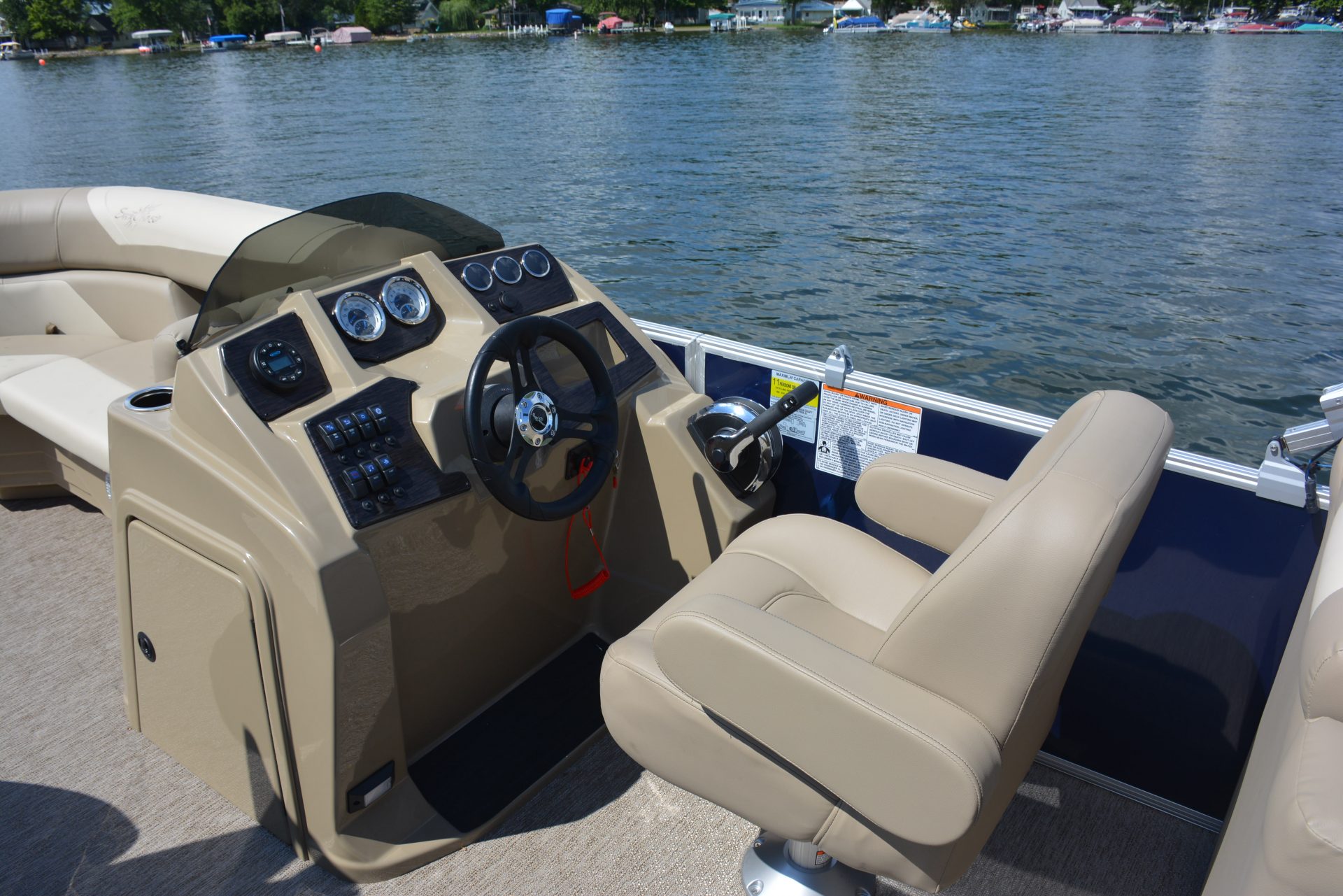 Pontoons are a great choice when buying a boat. They're easy to board with a flat deck and a gate, compared to many other boats which require climbing over the hull. Easy access and safety are always aspects you can count on in a pontoon boat. 
SunChaser has many different pontoons, each unique from one another. With so many options, it may be hard to choose your favourite. To put it simply, the more space you have, the better! That's why a super intriguing SunChaser pontoon is the Geneva Cruise 24 LR PSB. Let's take a look at all the features on this boat and see why it may be the right fit for you.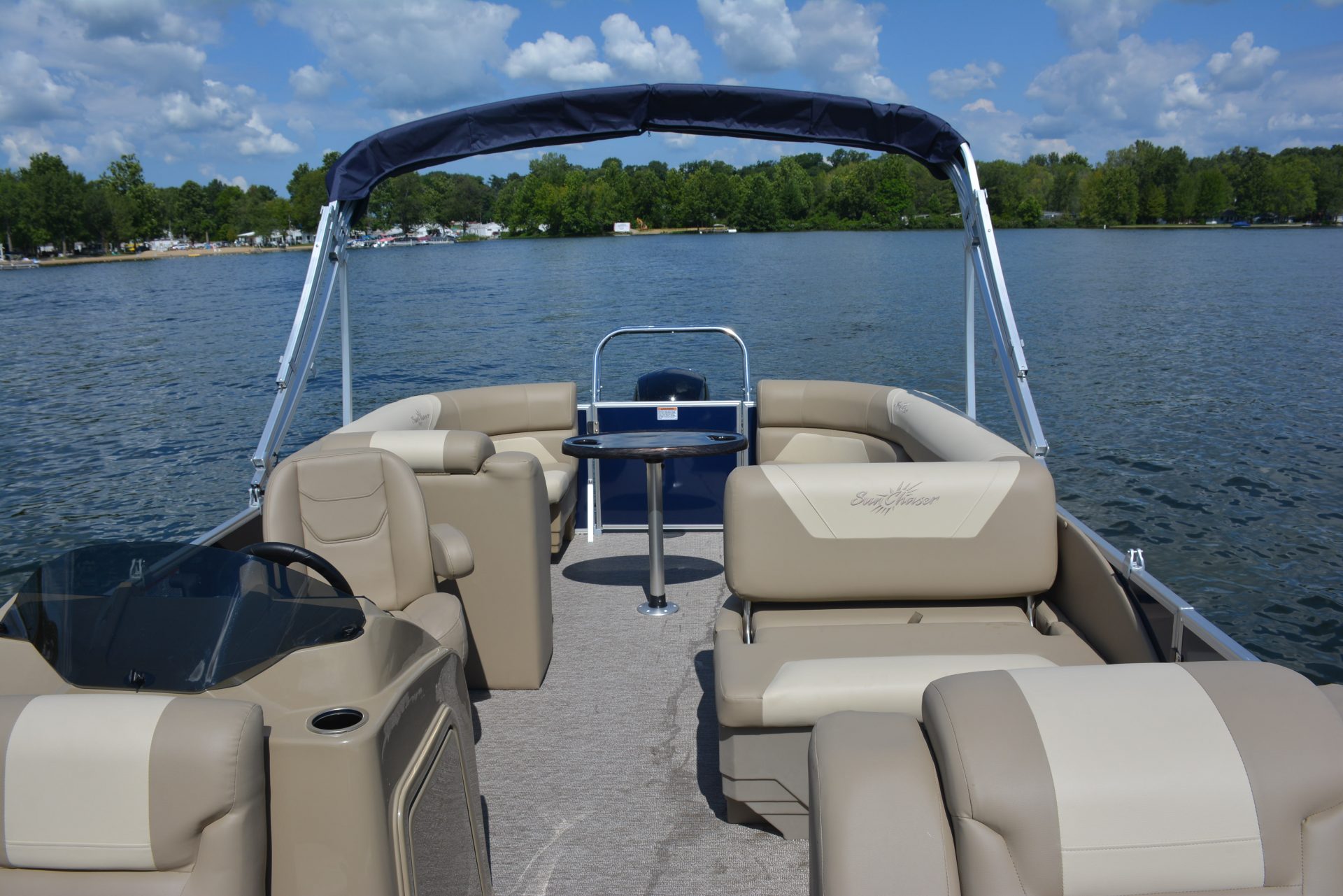 The Geneva is 24'10" in length and can fit approximately 13 people onboard, with a max weight capacity of 2525lbs or 1145kg. Spacious enough to fit your entire family and friends together, it's perfect for a weekend cruise anytime, anywhere. The boats fuel tank has a capacity of 38 gallons with a max horsepower of 150. If you're looking for more power, you can add a third tube to get that extra thrust of power you desire with 300 horsepower. The pontoon tubes are connected to the deck with four points increasing the strength and reducing frame twist in extra rough water and of course the bigger the engine you choose keeps it strong for several years to come.
It has four large loungers, perfect for everyone aboard to lay in the sun and relax, and they are covered with high quality marine vinyl upholstery, looking more and more like leather each year resulting in a comfortable and elegant relaxation station. At the stern, there is an aluminum ladder with 5 steps leading down into the water, for the convenience of taking a refreshing swim and climbing right back into the boat. Simultaneously the stern contains vinyl flooring for quick drying after taking a dip in the water, before going on the marine grade carpet covering the rest of the vessels floor. 
For the 2021 season, SunChaser has offered eight exterior colour options; Black, White, Red, Champagne, Blue, Silver, Caribou Brown, and Wave Blue, with a Color Coordinated 8' Bimini Top. 
Spacious and elegant, perfect for an entire family.
Sitting at The Captain's Helm on a low back chair that slides, and swivels has a luxurious feel with the Gucci style Verona Steering Wheel. Especially while playing your music on the boat with a Bluetooth Jensen MS3A Stereo or plug into the Auxiliary Port for MP3 Player. You'll hear your tunes all around with the amazing Speakers, for a fun time. The boat also has recessed cup holders throughout.
The Geneva has several add-ons and options available to spice up your boat and really make it your own home on the water. You can add a porta potti onto your boat to feel like royalty while doing your business on a boat. Create a fun and lively look for your pontoon by adding Underwater Lighting or Babbito Underdeck Lighting – or both! Take control of your vessel by adding on Power Assist Steering or Sea Star Hydraulic Steering and watch out for the waves!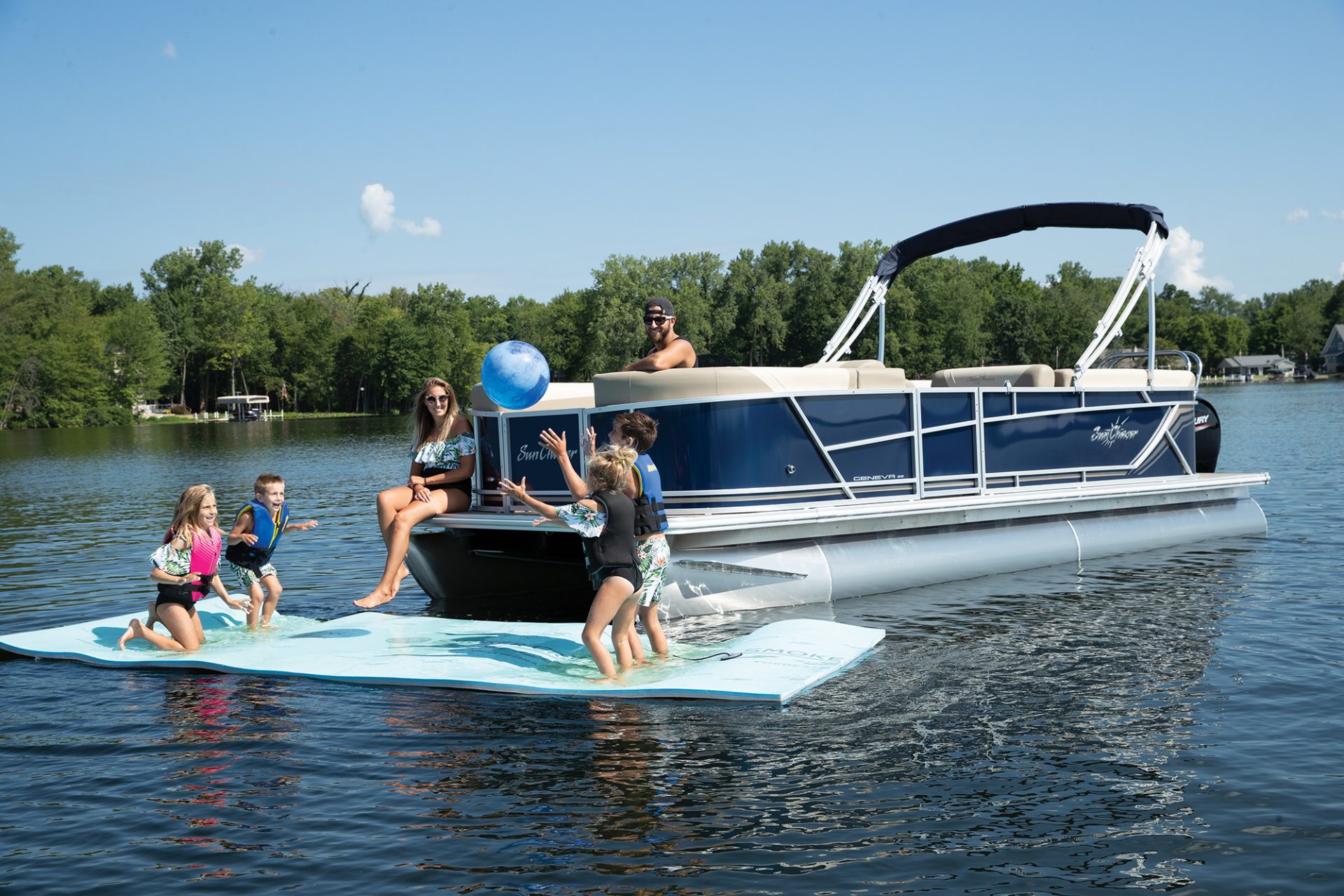 SunChaser offers an unbeatable and unique warranty on their products. They offer limited lifetime warranty on all Hull and Structure including decks, tubes and transoms. They also have a six year warranty on all components, carpet and upholstery, including marine grade carpet, and vinyl. If you decide to sell your boat, your warranty is transferrable to your buyer, so the new owner will have warranty as well. Anytime warranty is used, all parts and labour are included at no extra cost. The excellent quality that SunChaser provides leaves minimal need for usage of warranty and therefore leaves room for the company to offer such amazing warranty.
While other manufacturers shaped fencing fiberglass or fancy graphics, SunChaser pontoons have remained traditional in appearance, this can actually be to your advantage. As a buyer it's interesting to note that the high-end pontoons that feature new looks and costly options depreciate much faster than traditional models. From this, you can conclude that SunChaser offers not just well-made boats, but ones that will hold their value.  
Specifications
Max Horsepower: 150 hp
Third Tube Max Horsepower:  300 hp
Max Passengers:  13 / 1775 lbs
Max Capacity:  2525 lbs
Fuel Capacity:  38 gal
Dry Weight:  2425 lbs
Length:  24'10''
Beam:  102 in
Tube Diameter:  25

MSRP:  $28,499 USD Approx.

For more information: www.sunchaserboats.com 

2022 boat models, 2022 models, 24 LR, boat, boat review, Boating, boating in Canada, boating life, Boats, buying a new boat, buying a pontoon, family boat, family boating, Mercury, Mercury Marine, New, new boat, new pontoons, Pontoon, Pontoon Boat, pontooning, pontoons, power boating, powerboating, SunChaser, sunChaser Geneva Cruise 2022 boat models, 2022 models, 24 LR, boat, boat review, Boating, boating in Canada, boating life, Boats, buying a new boat, buying a pontoon, family boat, family boating, Mercury, Mercury Marine, New, new boat, new pontoons, Pontoon, Pontoon Boat, pontooning, pontoons, power boating, powerboating, SunChaser, sunChaser Geneva Cruise