How would you like to own a truly "go anywhere motor yacht"?  Does such a yacht exist?
Absolutely!  Steve and Linda Dashew's range of long distance, go anywhere motor yachts, built by Circa in New Zealand, are already a well known brand.
The FPBs (for functional power boat) 64, 78, 83 and 97 are out there cruising the world's oceans and achieving extraordinary passage times, vast range, great sea keeping, and delivering the best of long distance cruising for their owners.
Berthon have been working with the FPB Programme in Europe for the past 7 years. The collaboration has proved successful, with an FPB 78 in build in New Zealand for a European, the first FPB 64 GREY WOLF to visit Europe with a home port in the Channel Islands, and sales of an FPB 83 and a second FPB 64.
Berthon will now extend their activities in terms of the marketing and sales for FPB to a worldwide role,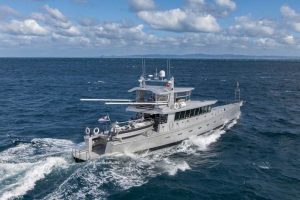 working with the Dashew Offshore team and the team at Circa Marine in New Zealand.
Sue Grant from Berthon commented
`There is no doubt that the FPB programme offers a paradigm shift in yachting. Here at Berthon, we have hugely enjoyed working with Steve and the team to market these remarkable yachts in Europe. Having the opportunity to extend this role into the rest of the world is a privilege. With FPB 78#1 launching in the first quarter of 2016, be prepared to hear a lot more about these astonishing yachts.
Steve Dashew said
Having worked closely with Sue Grant and her team at Berthon for the past seven years we have been impressed with their integrity and professionalism. With their emphasis on serious cruising yachts they fully understand the concept of a Functional Power Boat. This expanded relationship enables us to concentrate our efforts on refining the FPB range.
View the full range of FPB yachts here – http://www.berthon.co.uk/yacht-sales-brokerage/fpb-motor-yachts/
Berthon is a long established yachting group, with a Shipyard on the Lymington River providing a marina, yacht repair, and refit and maintenance facilities. Berthon International, the Sales Division, has a large international brokerage house with offices in Lymington, France, and the US. Steve and Linda Dashew are the owners and designers of the FPB range, designed with the experience and knowledge gained from hundreds of thousands of nautical miles of cruising. This enables them to provide un-rivalled go anywhere self-sufficient long distance cruising yachts that are at home in the warmth of the tropics or the cold of the Arctic Circle, and all points between.