Cold water survival and wearing a life jacket: A matter of life or death
From Transport Canada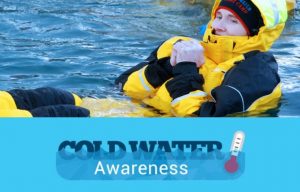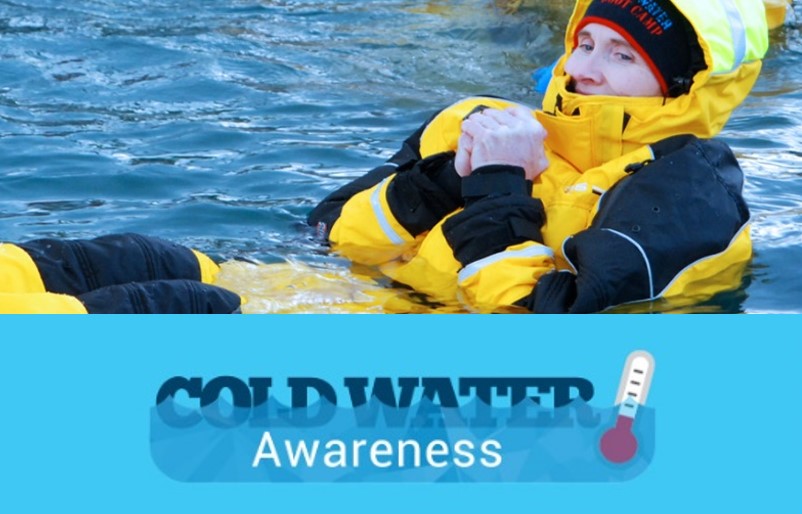 "Wear your life jacket while on a boat – it can save your life," advises the recurring safety message. Despite recent public awareness campaigns, far too many people fail to always wear their life jackets while boating. Although most boaters adhere to the Small Vessel Regulations and have the required number of personal flotation devices (PFDs) or life jackets on board, too many accidents occur that could be prevented. It raises the question whether this message is being heard loud and clear.
As the days get shorter around September, and we start feeling the coolness of the coming autumn, lake waters gradually cool down, even though the last hot days are still present. What could be more fitting to persuade the most resistant person to put on their life jacket than to explain how the body responds to cold water. The first three stages of cold water immersion and the approximate duration of each phase can be easily remembered by using the "1-10-1 Principle".
1 – The first minute – Cold Shock Response
If you fall from a boat, or it capsizes in cold water, you will initially lose total control of how your body will react. At first, you will feel out of breath and your heart will start racing. This situation will prevent you from reacting intuitively to save your own life.
If you are wearing a life jacket when an accident happens, not only will you be able to keep your head above water, but it will also protect you from ingesting a lot of water, thereby preventing drowning. During this first phase, which can last from one to two minutes, you will experience rapid breathing, gasping for air, followed by hyperventilation. Do not panic. You must remain calm to regain gradual control of your breathing. This is the key to surviving the first few minutes of cold-water immersion.
10 – The next ten minutes – Cold Incapacitation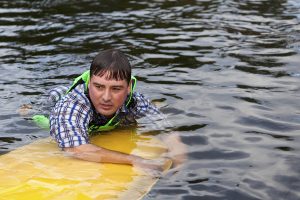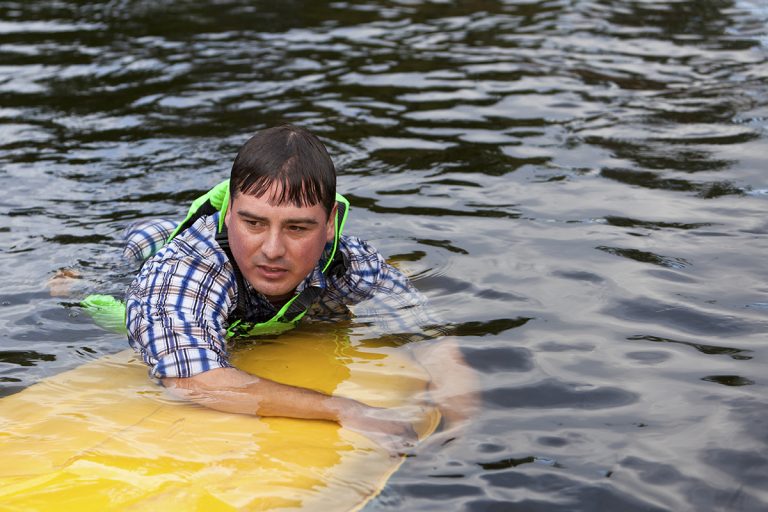 After the initial shock, you will have between two to 10 minutes to get out of the water. As you regain your senses during this period, you will try to use your arms and legs to stay afloat, but you will discover that it will be increasingly difficult to swim and maintain control of your movements. Even the strongest swimmers' chances of survival rapidly decline in cold water due to the steady loss of motor abilities that comes along with immersion. Factor in fully saturated clothing and footwear weighing you down, and it will be almost impossible to stay afloat without a life jacket on. You would understand how incredibly challenging it would be to put one on while already in the water if you've ever tried to do so.
In cold water, swim only if you can reach other people, get to shore, or can reach something you can cling to. Try to board the boat if it's nearby. To keep most of your body out of the water and preserve your heat longer, and if at all feasible, attempt to cling to the tallest portion of the boat.
1 – The following one hour – Hypothermia
The first symptoms of hypothermia appear after approximately 30 minutes. If you have not managed to get out of the water within the first 20 minutes of immersion, you must delay the course of hypothermia before losing consciousness. Huddle closely together to stay warm if you are in the water with other people. If not, raise your thighs close to your arms to limit heat loss. These two steps can potentially increase your visibility to rescuers and help you maintain your body heat longer. Only when wearing a personal flotation device may they be practiced.
Delaying hypothermia increases your chance of survival since the longer you are conscious, the longer you have to call for help. Without question, wearing a life jacket plays a major role when it comes to survival in cold water. In addition to keeping you afloat, it also keeps your body warm much longer than if it were not worn. Make sure it has been approved by one of the following organizations before you choose it:
Transport Canada
Fisheries and Oceans Canada
Canadian Coast Guard
It's important to note that a life jacket must be in good condition and adjusted to your size. Take the time to try on different models, to find one that fits well and is comfortable enough for you to wear whenever you are on a boat. To be quickly identified by first responder agencies, it is best to choose an eye-catching colour, such as red, yellow, or orange.
Your odds of surviving a boating accident are much higher if you routinely wear your life jacket when you board a boat. Encourage your companions to do the same.
For more information on boating safety, visit Transport Canada's Office of Boating Safety website at: Office of Boating Safety (canada.ca)
You could also visit the Canadian Safe Boating Council website to learn more about cold water immersion: Cold Water Awareness (csbc.ca)
boating safety, boating tips, Cold Water Survival, Cold Water Tips, Cold weather boating, PFD use, safety, Safety Equipment, Transport Canada, why wear a PFD